For ingrown toenails, visit a podiatrist's office. A podiatrist is a medical professional who specializes in treating foot and ankle conditions.
Ingrown toenails can cause pain, discomfort, swelling, and infection if left untreated. A podiatrist will examine your foot, and based on the severity of the ingrown toenail, they will recommend the best treatment option for you. Treatment can range from simply trimming the nail properly to removing part or all of the nail.
It is important to seek medical attention for an ingrown toenail to prevent complications from developing.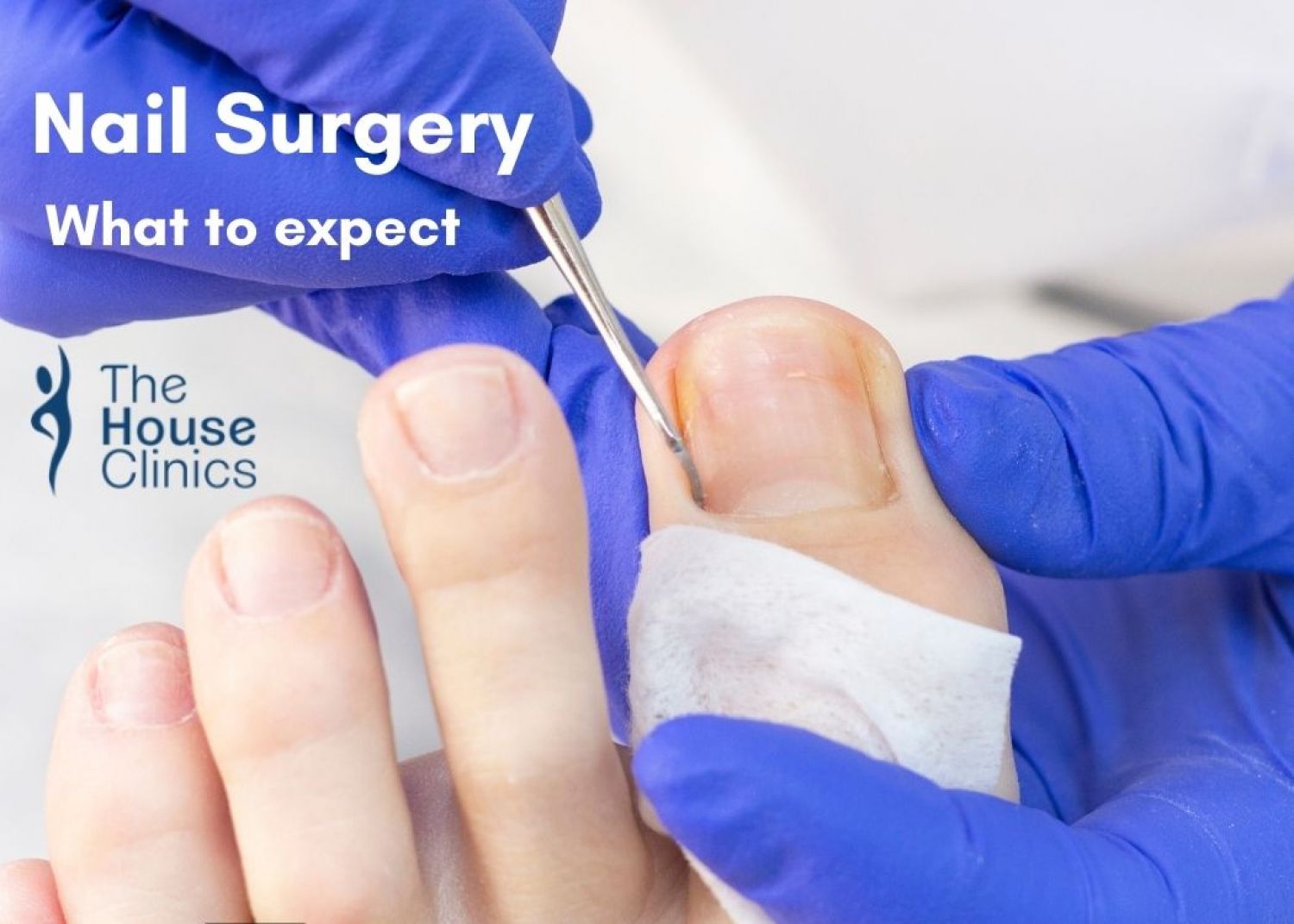 Credit: thehouseclinics.co.uk
What Is An Ingrown Toenail
Definition And Causes
An ingrown toenail happens when the nail grows into the flesh of the toe. This can be very painful and can cause inflammation, redness and sometimes even infection. Ingrown toenails often happen on the big toe but can occur on any toe.
Wearing shoes that are too tight or narrow can cause the skin to be pushed up against the nail, making it more likely to grow into the flesh.
Cutting toenails too short or rounding them off can cause the nail to grow into the flesh.
Injuries to the toe can also cause the nail to grow into the flesh.
Some people are simply more prone to getting ingrown toenails.
Symptoms
If you have an ingrown toenail, you'll know about it!
Pain and tenderness on the affected toe
Swelling and redness around the nail
Inflammation and sometimes bleeding
Infection, which brings with it a yellow or green discharge and a bad smell
Don't forget, if your ingrown toenail is causing severe pain, there might be an infection. Get it checked out by a doctor.
Remember, prevention is always better than cure – wear comfortable, well-fitting shoes, cut your toenails straight across and visit a podiatrist regularly to ensure your feet – and toenails – are in good condition.
Why Seek Professional Treatment
Ingrown toenails can be painful and annoying, causing discomfort while performing day-to-day activities. Although some people may tend to treat them at home, professional medical care ensures that the ingrown toenails are removed safely and effectively. In this section, we will discuss why it's essential to seek professional treatment for ingrown toenails.
Risk Factors
Several factors increase the risk of developing ingrown toenails.
Wearing tight and ill-fitting shoes
Improper nail cutting technique
Thickened or curved nails
Excessive sweating of the feet
Injuries to the toenail
Self-Treatment Vs. Professional Treatment
Most people try to treat ingrown toenails at home using over-the-counter medications or home remedies. While self-treatment may provide temporary relief, professional care is required to prevent the condition from worsening.
Here are some points that highlight the difference between self-treatment and professional treatment:
Self-Treatment
Cutting the nail at home
Applying topical ointments
Placing cotton or dental floss under the nail
Professional Treatment
Complete removal of the ingrown nail
Antibiotic treatment to prevent infection
Application of a medical dressing to the toe
Possible Complications If Left Untreated
Ignoring or not treating ingrown toenails can lead to several complications.
Severe pain and discomfort
The development of an infection
Pus or discharge from the affected area
The formation of a blister filled with blood or pus
Corns and calluses development around the nail
It's best to seek professional treatment for ingrown toenails to avoid any painful complications. Remember, early treatment is always beneficial, which is why ingrown toenails should not be ignored.
Where To Find Professional Treatment
Ingrown toenails can be quite painful and uncomfortable, but it's reassuring to know that there are plenty of professional treatment options available. If you're looking for some guidance on where to go for expert care for ingrown toenails, keep on reading.
In this post, we'll be discussing the benefits of seeing a podiatrist versus a primary care physician, how to locate a podiatrist in your area, and insurance coverage and costs.
Podiatrists Vs. Primary Care Physicians
If you're experiencing discomfort from an ingrown toenail, you might first consider seeing your primary care physician. However, while primary care physicians are capable of treating the condition, podiatrists are specialists with a greater depth of knowledge, specialized training and tools.
Podiatrists: Podiatrists have completed four years of undergraduate work, including courses in biology, physics, and chemistry, followed by four years of podiatric medical school and a minimum of three years of residency training. They specialize specifically in the lower extremities and are experts in diagnosing and treating issues with the feet, ankles, and toes. They perform surgery, prescribe medication, and develop treatment plans tailored to their patient's unique needs.
Primary care physicians: While primary care physicians can diagnose and manage an ingrown toenail, they aren't foot specialists. They can provide some relief with the trimming of the toenail, prescription for antibiotics and medicines for pain management, however, it is better to get proper treatment from a foot specialist in order to prevent the recurrence of the issue.
Where To Locate A Podiatrist In Your Area
Now that you know why it's important to see a podiatrist for ingrown toenail treatment, you might be wondering how to go about finding one in your area.
Ask your primary care physician: If you have a primary care physician, they might be able to recommend a trustworthy podiatrist for your condition. They may know someone who specializes in treating ingrown toenails.
Check your insurance provider: Your insurance provider may have a directory of podiatrists in your area that are covered by your insurance plan. This can help narrow down your options.
Search online directories: There are a variety of online directories that allow you to search for podiatrists in your area, such as zocdoc, yelp, healthgrades, and the american podiatric medical association. Check the reviews, ratings, and credentials before considering an appointment.
Insurance Coverage And Costs
Ingrown toenail treatment can be costly, but insurance coverage can help alleviate the burden.
Insurance plan coverage: Not all insurance plans cover podiatrist visits, so it's important to check your insurance coverage before making an appointment. If your insurance doesn't cover podiatry visits, you might consider contacting your podiatrist and checking for alternate payment options.
Costs: The cost of an initial consultation with a podiatrist ranges from $90 to $200 on average, with additional fees for procedures like x-rays, lab work, and surgery. The exact costs will depend on your location, as well as the severity of your condition.
Preventive care: If you are worried about future treatments and costs, you may want to focus on preventive care. Trim your nails straight across, and avoid shoes that are too tight. These small steps can help reduce your risk of developing ingrown toenails in the future.
Overall, seeking professional care for ingrown toenails is a must to alleviate the pain and discomfort. Podiatrists are highly specialized foot specialists who offer targeted treatment plan which are often covered by insurance policies. If you're struggling with your insurance provider or are uninsured, it may be worth contacting clinics and asking about alternative payment options.
Treatment Options Available
Where To Go For Ingrown Toenail: Treatment Options Available
Ingrown toenails can be very bothersome and even painful. They can disrupt daily routines, making it difficult to walk, stand, or wear shoes. The good news is there are a number of effective treatment options available. In this section, we will discuss the most common treatment options for ingrown toenails.
Conservative Methods (Medication, In-Office Procedures)
Medication:
Painkillers like acetaminophen or ibuprofen may be prescribed to alleviate the pain caused by an ingrown toenail.
Antibiotics can help prevent or eliminate the infection that is often present with ingrown toenails.
In-office procedures:
Lifting the nail: A doctor or podiatrist numbs the toe and lifts the ingrown nail with a small instrument, then places cotton or a splint under the nail edge to keep it away from the skin. This helps the nail grow over the skin instead of into it.
Partial nail removal: If the toenail is severely infected or has become a chronic problem, a portion of the nail may need to be removed. The doctor will numb the toe and remove the section of the nail that has grown into the skin.
Surgical Interventions
Nail avulsion:
Complete nail removal: In severe cases, the entire nail may need to be surgically removed. This is a rare procedure and is not commonly done unless absolutely necessary.
Partial nail removal: In some cases, only the part of the nail that is ingrown may need to be removed, leaving part of the nail intact.
Chemical or laser matrixectomy:
This is a procedure in which the nail matrix, or the section of tissue that produces the nail, is destroyed with the use of a chemical or laser. This prevents the nail from growing back, but the problem may recur.
Pros And Cons Of Each Method
Conservative methods:
Pros: Conservative methods are less invasive and have a shorter recovery time. They are also less expensive than surgical interventions.
Cons: Conservative methods may not be effective for severe or chronic cases of ingrown toenails.
Surgical interventions:
Pros: Surgical interventions are often more effective at solving the problem than conservative methods. They are more likely to permanently eliminate the problem and may be required for severe or chronic cases.
Cons: Surgical interventions are generally more invasive and have a longer recovery time. They may also be more expensive than conservative methods.
When it comes to treating ingrown toenails, there are a variety of treatment options available. Conservative methods such as medication or in-office procedures can be effective for less severe cases. However, for more severe or chronic cases, surgical interventions may be necessary.
It is important to consult with a doctor or podiatrist to determine the best treatment option for you.
Tips To Prevent Ingrown Toenails
Where To Go For Ingrown Toenail
Ingrown toenails can be a painful and frustrating experience. They occur when the nail grows into the skin rather than over it, causing redness, swelling, and even infection. If you're experiencing ingrown toenails, there are many options available to you.
In this blog post, we'll explore tips to prevent ingrown toenails so you can avoid this uncomfortable problem in the future.
Proper Nail Care
Proper nail care is essential when it comes to preventing ingrown toenails.
Cut your toenails straight across rather than curved, allowing the nail to grow out straight.
Avoid trimming your toenails too short as this can encourage the nail to grow into the skin.
Keep your toenails clean and dry to prevent bacteria build-up.
File any sharp edges or ridges on your toenails to minimize the chance of them slicing into your skin.
Footwear Selection
The type of shoes you wear can also contribute to the likelihood of experiencing ingrown toenails.
Choose shoes with ample room in the toe box. Shoes that pinch or squeeze your toes together can increase pressure on your toenails, making them more likely to grow into the skin.
Stockings or socks should fit correctly to avoid pressure on toes and nails.
Avoid high heels and shoes with pointed toes. These can force the toes towards each other, causing the toenail to grow into the skin.
Lifestyle Changes
Finally, certain lifestyle changes can help reduce the incidence of ingrown toenails:
Maintain a healthy weight to reduce pressure on your feet and toes.
Take care when trimming your toenails, being aware of other conditions like diabetes or poor circulation, which can compromise your nail health.
Avoid nail-biting or picking, as this can damage your toenails and make them more susceptible to ingrown nails.
Exercise regularly to increase blood circulation to your feet and ensure overall good foot health.
Preventing ingrown toenails is always better than treating them, so make sure to follow these tips. If you're currently experiencing an ingrown toenail, it's essential to see a podiatrist for treatment. They will be able to guide you through proper treatment and provide you with advice on how to avoid future occurrences.
Frequently Asked Questions For Where To Go For Ingrown Toenail
What Causes Ingrown Toenails?
Ingrown toenails occur when a sharp edge of the toenail grows into the skin, causing pain, redness, and swelling. Poorly-fitted shoes, improper nail trimming, and genetics are some of the factors that can cause ingrown toenails.
How Do You Treat An Ingrown Toenail?
Treatment for an ingrown toenail includes soaking the affected area in warm water, wearing open-toed shoes, and gently lifting the edge of the nail out of the skin with a clean instrument. In severe cases, surgery may be necessary to remove part of the toenail.
Where Should I Go For Ingrown Toenail Treatment?
You can seek treatment for an ingrown toenail from a podiatrist, a foot and ankle specialist. Family physicians also treat ingrown toenails.
Can I Prevent Ingrown Toenails?
To prevent ingrown toenails, wear properly-fitted shoes, keep the feet clean and dry, trim toenails straight across, and avoid cutting them too short. For athletes or individuals who sweat excessively, synthetic socks can help absorb excess moisture.
Is It Safe To Self-Treat An Ingrown Toenail?
While mild cases of ingrown toenails can be treated at home, self-treatment is not advised for individuals who have diabetes, nerve damage, or poor circulation. These conditions can lead to serious complications if left untreated, so it is important to seek professional treatment if you have any concerns.
Conclusion
When it comes to finding relief for an ingrown toenail, taking action sooner rather than later is always the best approach. While it can be tempting to try and tackle the issue at home, it is always safer to seek out the advice and treatment of a medical professional.
Visiting a podiatrist is a highly recommended option for getting relief and avoiding further complications. In addition to treating the ingrown toenail, they can also provide valuable guidance on how to avoid future occurrences. Remember, taking good care of your feet is essential in maintaining overall health and wellness.
So, the next time you encounter an ingrown toenail, don't hesitate to seek out the professional advice of a skilled podiatrist. Your feet will thank you for it!