The best shoes to wear with scrubs are comfortable, closed-toe sneakers with good arch support. These shoes provide comfort and protection during long work hours.
When it comes to working in healthcare, wearing the appropriate shoes is crucial. As a healthcare professional, you're on your feet for long periods, which can take its toll on your feet, legs, and lower back. Wearing comfortable, supportive shoes is essential for maintaining good foot health and overall physical well-being.
In this article, we'll look at the best shoes to wear with scrubs. Whether you're working as a nurse, a doctor, or in any other healthcare role, this guide will help you find the perfect pair of shoes to keep you comfortable and on your feet all day.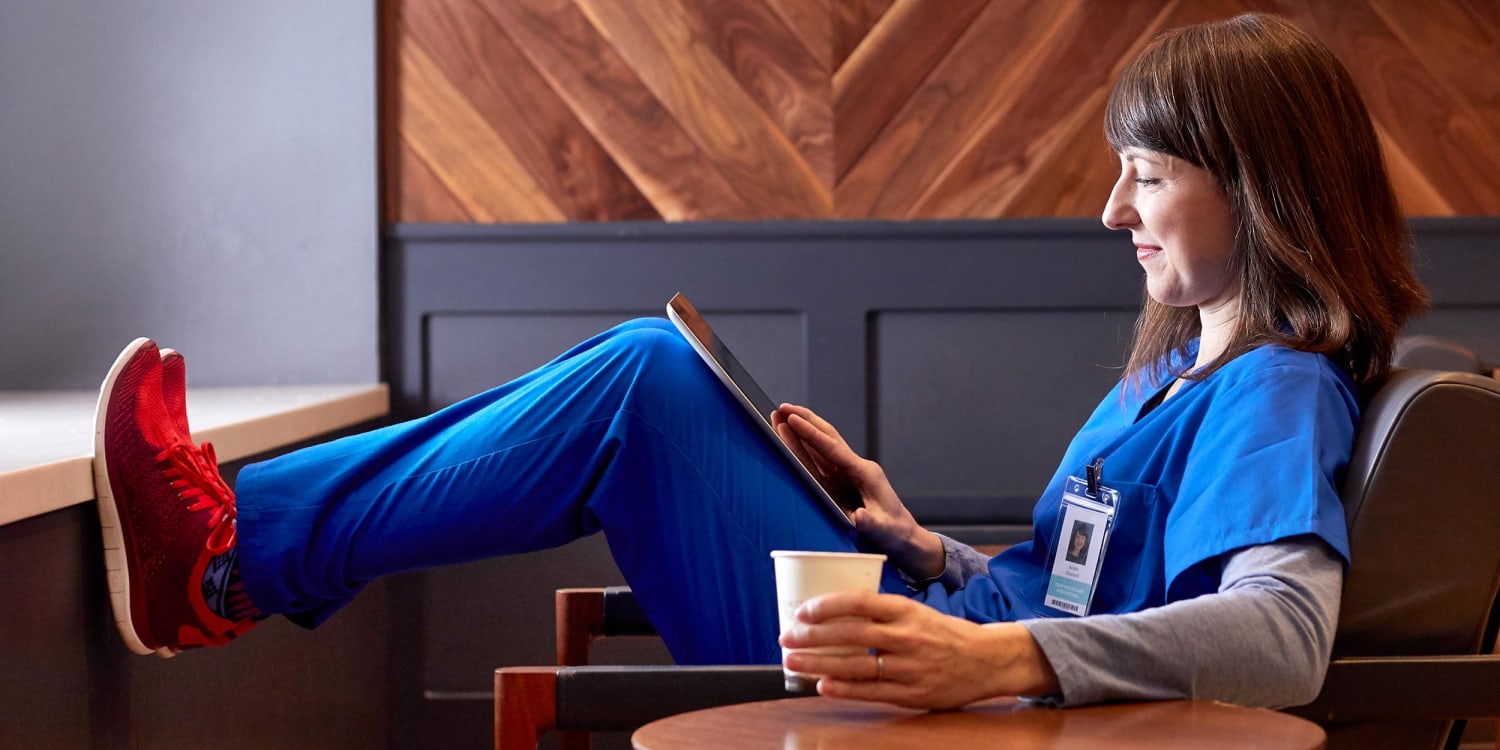 Credit: www.today.com
Factors To Consider When Choosing Shoes For Scrubs
As a healthcare professional, finding the perfect pair of shoes to wear with your scrubs is essential. You need to select shoes that provide both comfort and support, as well as meet your hospital's dress code requirements.
Comfort And Support
Wearing comfortable and supportive shoes helps protect your feet and legs from injuries during long hours of standing or walking.
Arch support: Look for shoes with good arch support to prevent foot pain and fatigue.
Cushioning: Pick shoes with ample cushioning to reduce pressure on your feet and absorb shock while walking or standing.
Breathability: Choose shoes with breathable materials to keep your feet fresh and dry.
Perfect fit: Shoes that are too tight or too loose can lead to discomfort. Find shoes that fit your feet snugly.
Style And Aesthetics
While your primary concern should be comfort and support, your shoes also need to match your scrubs' color and style.
Color: Your shoes should match your scrubs' color, so choose a neutral color if you don't want your shoes to clash.
Style: Sneakers are the most common type of shoes worn with scrubs, but loafers or clogs can also be a good choice depending on your preference and shoe policy at work.
Design: Pick shoes with minimal designs or embellishments for a professional look.
Durability And Quality
You need to find shoes that can handle the demanding environments you'll be working in, so prioritize durability and quality. Shoes made from high-quality materials could be more expensive, but they'll ultimately save you money.
Materials: Opt for shoes made from sturdy materials that can withstand wear and tear such as leather or synthetic materials.
Outsole: Look for shoes with sturdy outsoles that provide stability on slippery floors.
Brand: Choose a well-known brand that is known for making high-quality shoes like nike, reebok, or sketchers.
Safety Features
Your safety is critical when working in a healthcare facility. Your shoes should have safety features such as slip-resistant soles and be free of any components that can cause accidents, like laces or buckles.
Slip resistance: Shoes with non-slip soles prevent accidents, especially on wet surfaces.
Closed-toe: Closed-toe shoes shield your feet from sharp objects or spills in the hospital environment.
No hanging components: Choose shoes with no hanging components like buckles or laces that could get caught in equipment.
Choosing the right shoes to wear with scrubs is crucial for your comfort, safety, and professionalism. Prioritize comfort, style, durability, and safety features when selecting the perfect shoes to wear with your scrubs.
Types Of Shoes To Wear With Scrubs
If you wear scrubs to work, you know how important it is to have supportive and comfortable shoes. After all, you spend long hours on your feet. The right shoes not only keep you comfortable but also prevent foot and back problems.
In this section, we will discuss the types of shoes that work best with scrubs.
Athletic Shoes: Benefits And Features
Athletic shoes, also known as running shoes, are an excellent choice for wearing with scrubs.
Comfort: Athletic shoes are typically designed with comfort in mind, with cushioned soles and good arch support. This makes them ideal for long hours on your feet.
Durability: Athletic shoes are designed for activity, so they tend to be more durable than other types of shoes.
Breathability: Sweaty feet can be uncomfortable, but athletic shoes are often made with breathable materials that help keep your feet dry.
Style: With so many styles and colors to choose from, you are sure to find a pair of athletic shoes that complement your scrubs.
Clogs: Benefits And Features
Clogs are popular among healthcare professionals, and for good reason.
Ease of use: Clogs are easy to take on and off, making them convenient for busy healthcare professionals.
Supportive: Many clogs offer excellent arch support, which can help reduce foot and back pain.
Easy to clean: Clogs are often made of materials that are easy to clean, which is important in a healthcare setting where cleanliness is paramount.
Stylish: Clogs come in a variety of styles and colors, so they can add a pop of color to your scrubs.
Sneakers: Benefits And Features
Sneakers are another popular choice for healthcare professionals.
Comfortable: Like athletic shoes, sneakers are designed for comfort and support. They often have cushioned soles and good arch support.
Versatile: Sneakers come in a range of styles from casual to sporty, making them versatile and adaptable to different environments.
Breathability: Many sneakers are made of breathable materials that help keep your feet dry and comfortable.
Stylish: Sneakers come in a range of colors and styles, so you are sure to find a pair that complements your scrubs.
Other Types Of Shoes: Benefits And Features
While athletic shoes, clogs, and sneakers are the most popular types of shoes worn with scrubs, other types also work well.
Loafers: Loafers are slip-on shoes that have become increasingly popular in healthcare settings. They are easy to put on and take off, but still provide support and comfort.
Boots: Ankle-length boots can be worn with scrubs, particularly in cooler weather. They provide good support and protection, but make sure to choose a pair with good traction on the sole.
Sandals: In hot weather, sandals can be a good option. Look for sandals with good arch support, that are easy to clean and have good traction.
When choosing shoes to wear with your scrubs, look for shoes that provide good arch support, are comfortable, easy to clean and offer good traction. With so many styles to choose from, there's no need to sacrifice style for comfort, so go ahead and choose a pair that you love!
Tips For Choosing The Right Shoes For Your Job
Understand The Requirements Of Your Job And Workplace
Choosing the right pair of shoes is crucial to ensure comfort and safety throughout your shift. Before purchasing a pair, it's important to consider the requirements of your job and workplace.
Are there specific shoe requirements set by your employer or industry regulations?
Do you work in a hospital, restaurant, or retail setting?
Are you required to stand for long periods of time or not?
Having a clear understanding of your job's footwear needs will help you narrow down your options and make the right decision.
Consider The Demands Of Your Specific Job Duties
Different job duties require different levels of support and protection. If you work in healthcare, you may need shoes with slip-resistant soles for preventing slips and falls. If you work in a fast-paced restaurant, you might need shoes with extra grip to prevent spills and accidents.
If you do a lot of walking, look for shoes with supportive features such as arch support.
If you lift heavy objects, consider shoes with a steel-toe or reinforced outsole.
If you work around hazardous materials, opt for shoes made of waterproof or chemical resistant materials.
Make sure to take your specific job duties into account when selecting shoes for work.
Evaluate Your Own Comfort Needs And Preferences
Comfort is important, especially if you spend extended periods of time on your feet. Each person has different comfort needs and preferences, so it's important to consider these factors when selecting shoes.
Do you prefer shoes with more cushioning or a more minimalist design?
Do you need shoes with wide or narrow widths?
Do you prefer shoes with a low or high heel?
It's important to find shoes that not only suit your job requirements but also fit your individual comfort and style preferences.
Pay Attention To Fit And Sizing
Ill-fitting shoes can cause discomfort, pain, and even injury at work.
Make sure there is enough room for your toes to move around comfortably.
Check that the shoes provide enough arch support and aren't too tight around the heel.
Ensure that the shoes fit snugly but still allow for some wiggle room.
Remember, the correct fit is essential for your safety and comfort on the job.
Take Care Of Your Shoes To Ensure Long-Lasting Wear
Finally, it's important to take care of your shoes to ensure they don't wear out quickly and last as long as possible.
Clean them on a regular basis to prevent dirt and grime from settling in.
Polish leather shoes to add an extra layer of protection.
Store them in a dry and cool environment to prevent damage from moisture and heat.
Remember, shoes are essential to your job performance and overall health, so investing in a good pair is always worth it.
Frequently Asked Questions For Shoes To Wear With Scrubs
What Type Of Shoes Match With Scrubs In Clinical Settings?
The best shoes for scrubs in clinical settings are comfortable, slip-resistant, and closed-toe. Lightweight sneakers or clogs are recommended to provide proper support and reduce foot fatigue. Avoid sandals or high heels as they may expose your feet to bacteria or create trip risks.
Is It Necessary To Wear Specific Colored Shoes With Scrubs?
No. Specific colored shoes with scrubs aren't necessary, however, it is recommended that they match some of the colors in your scrub outfit. If you're wearing solid-colored scrubs, you can wear shoes that contrast with your outfit.
What Material Should I Consider When Choosing Shoes To Wear With Scrubs?
The best materials to choose for shoes to wear with scrubs are leather and canvas, which are known for their durability and breathability. Moreover, shoes with rubber soles and slip-resistant features are advisable to avoid any accidental slips or falls.
Can I Wear Athletic Shoes With Scrubs?
Yes, you can wear athletic shoes with scrubs, as long as they are clean, comfortable, and appropriate for your workplace. Lightweight, breathable sneakers with arch support provide comfort and help prevent foot injuries; however, avoid running shoes and flashy styles.
How Should I Maintain Clean And Hygienic Shoes When Wearing Scrubs?
Maintaining hygienic shoes is essential while working in clinical settings. Wash your shoes regularly with soap and water, and then disinfect them using a sanitizing spray or wipes. Avoid wearing the same shoes every day, as this can lead to bacterial growth and odors.
Store your shoes in a ventilated area.
Conclusion
After reading this article, you should now have a better understanding of the types of shoes that are best to wear with scrubs. Remember, comfort and support should always be your top priority, as you will be on your feet for long hours.
Consider the environment you are working in, as well as your specific needs when selecting your footwear. Invest in high-quality shoes that are durable and provide adequate support to avoid injuries and maintain good posture. With so many options available on the market, there is no need to sacrifice fashion for function.
By following the tips and recommendations outlined in this article, you will be able to dress in style and stay comfortable while on the job.