Running in basketball shoes can be uncomfortable and even cause injury due to their design not being suitable for running. It is important to wear proper running shoes for running activities to ensure safety and comfort.
Basketball shoes are known for their high-top design, which offers support to the ankle during lateral movements and jumping. However, they also tend to be heavier and have less cushioning compared to running shoes. These features can make running in basketball shoes uncomfortable and may even lead to strain on your feet, knees, and joints.
It is always recommended to wear properly fitted and designed running shoes for running activities to avoid any potential injuries and maximize performance. Additionally, make sure to replace your shoes when they become worn out, as worn-out shoes can also contribute to injury risks.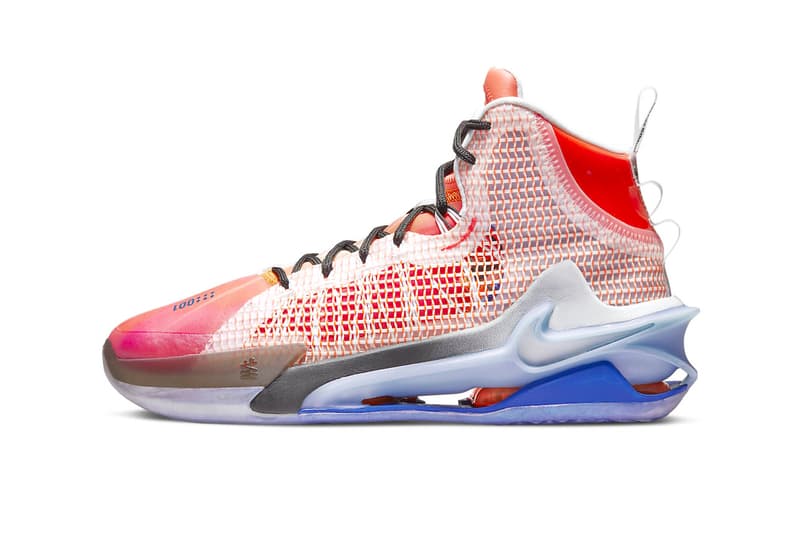 Credit: hypebeast.com
Basketball Shoes Vs Running Shoes
Basketball and running are two entirely different sports, but runners often find themselves wearing basketball shoes. So, what's the difference between basketball shoes and running shoes? Let's find out!
Differences In Design And Functionality
Here are the main differences in design and functionality between basketball shoes and running shoes:
Basketball shoes have more ankle support and stability due to their high-top design, allowing basketball players to make quick cuts, jump, and land safely on the court. In contrast, running shoes are designed to provide more cushioning and shock absorption to reduce the impact on the feet during running, with a lower cut design for ankle mobility.
Basketball shoes have a thicker sole and heavier construction, making them more durable for the rigorous movements on the court. Running shoes, on the other hand, have a lightweight design with a thinner sole that provides the necessary support for running while reducing the overall weight of the shoe.
Basketball shoes have a wider and flatter outsole, with a patterned grip specifically made for the court surface to provide excellent traction and stability. Running shoes have a curved outsole that is designed for forward motion on different types of surfaces.
Advantages And Disadvantages Of Each Shoe Type
Here are the advantages and disadvantages of each shoe type:
Basketball shoes:
Advantages:
Provide excellent support and stability for basketball players
Durable and able to withstand aggressive movements on the court
Great traction and grip for the court surface
Disadvantages:
Can be heavier and less flexible, affecting movement speed and agility
Less cushioning and shock absorption, leading to more impact on the feet
Running shoes:
Advantages:
Lightweight and flexible for optimal movement during running
Provide more cushioning and shock absorption, reducing impact on the feet
Breathable and comfortable, allowing for longer periods of use
Disadvantages:
Less stability and support, making them unsuitable for other sports like basketball
Less durable for rigorous movements over time
Not designed for court surfaces, leading to poor traction and stability during basketball games
Why Basketball Shoes Are Suitable For Running During Basketball Game
Basketball shoes are suitable for running during a basketball game because they are designed for short bursts of movements, just like running. When players are running up and down the court, making quick turns, jumping and landing, basketball shoes provide the necessary support and stability needed to prevent injuries.
Additionally, they have excellent traction and grip specifically for the court surface. This helps players maintain good footing and reduces the risk of slipping and falling, which can be detrimental during a basketball game.
While basketball shoes and running shoes might look similar, they are designed for entirely different purposes. Each type of shoe has its advantages and disadvantages, and it's essential to choose the right type of shoe for the sport you'll be playing.
For basketball players, wearing basketball shoes during games is the best option, as they are designed to provide the necessary support, stability, and traction required on the court.
Key Features Of Running In Basketball Shoes
Basketball shoes are an excellent choice for avid runners thanks to their cushioning, support, and stability features. The versatile design of basketball shoes ensures they enhance performance while keeping the feet comfortable, making them an excellent option for those looking for both comfort and functionality.
In this section, we will delve into the key features of running in basketball shoes that make them the perfect choice for runners.
Cushioning And Support Features
Adequate cushioning in basketball shoes mitigates the impact of feet striking the ground when running. The foam cushioning in basketball shoes offers several benefits, including reducing stress on the feet, knees, and ankles. Moreover, basketball shoes have sturdy heels that provide support to the ankles, reducing the chances of injury.
Here are some of the cushioning and support features that make basketball shoes one of the best options for runners:
Thick foam padding beneath the foot and around the heel area
High-top design for added ankle support
Lightweight material and less bulky for easier mobility
Tight-fitting and supportive uppers to keep feet in place
Traction And Stability Properties
Basketball shoes have excellent traction properties, thanks to their design, which helps to grip the ground firmly. The sole material offers a perfect grip on slick or uneven surfaces, ensuring a runner maintains stability and balance. The features that boost traction and stability in basketball shoes include:
Rubber soles with better grip and traction
Deep grooves in the sole
A patterned or textured sole for improved stability
Flexibility in the sole to enable proper range of motion
Breathability And Comfort Factors
Breathable basketball shoes are more comfortable, especially for runners who tend to sweat profusely during workouts. Excellent breathability ensures that feet stay cool, dry, and ventilated throughout the run, reducing the chances of developing blisters or bad odors. Here are the features that ensure basketball shoes remain comfortable and breathable during runs:
Mesh or knit uppers that allow for ventilation and breathability
Moisture-wicking materials that help keep feet dry
Padded tongues and collars for additional comfort and to prevent chafing
Soft and breathable linings that regulate temperature
Durability And Flexibility Aspects
Basketball shoes are durable and flexible, making them an excellent choice for runners who desire long-lasting and versatile footwear. The materials used in basketball shoes are sturdy and can withstand long periods of use, even on rough terrain. At the same time, basketball shoes' flexibility offers better mobility, allowing runners to move and run with ease.
Key durability and flexibility features include:
High-quality synthetic and leather materials that provide support and durability
Reinforced uppers that can withstand the wear and tear of regular use
Flexible midsoles that enable proper bending of the foot
Properly designed flex grooves that offer excellent flexibility
Basketball shoes provide a great running experience while providing adequate cushioning, support, stability, durability, and flexibility. With the above features, basketball shoes remain the perfect choice for every runner who desires both comfort and functionality.
Choosing The Right Basketball Shoes For Running
The Importance Of Fit And Size
Finding the right fit and size is paramount for running in basketball shoes. Here are some things you should consider:
Choose shoes that fit snugly, leaving minimal space between your toes and the front of the shoe.
Make sure your heel does not slip out when you run or walk.
Select shoes that provide sufficient arch support, as this will help prevent foot fatigue and lower leg injuries.
Materials And Construction Quality To Evaluate
The materials and construction of basketball shoes can significantly affect your running performance. Some factors to consider include:
Lightweight designs that let your feet breathe and stay dry.
Thick and durable soles that can withstand the rigors of running.
High-quality materials that will endure heavy use.
Foot Shape And Arch Considerations
As suggested earlier, your foot shape and arch should influence your choice of basketball shoes for running. Here are some pointers to keep in mind:
If you have high arches, look for shoes with significant arch support.
If you have flat feet, choose shoes with a flatter sole and superior lateral support.
If you have a neutral foot, pick shoes that have equal padding throughout the soles and comfortable cushioning.
Specific Basketball Shoe Models Recommended For Running
While many basketball shoes offer several features that make them suitable for running, some models stand out above the rest. Here are some recommended basketball shoes for running:
Nike men's lebron witness iii – this shoe is comfortable, lightweight with extra cushioning and grip for running
Adidas harden vol 4 – made with top-quality materials, these shoes are specific for running with extra-lightweight features.
Under armour men's jet – this shoe features an excellent fit, responsive cushioning and excellent breathability.
When choosing basketball shoes for running, remember to focus on factors such as fit, materials and construction quality, foot shape and arch considerations. Also, consider trying out the recommended basketball shoe models to find the perfect pair for your running needs.
Maximizing Performance: Tips For Running In Basketball Shoes
Running in basketball shoes can be challenging, given that they are not specifically designed for running. Nonetheless, running in basketball shoes can be beneficial if done correctly, and can even enhance overall performance. Therefore, it is important to understand how to maximize your performance while running in basketball shoes.
Here are some tips on how to do it effectively according to different aspects:
Proper Warm-Up And Stretching Techniques
Before beginning any workout, including running, it is important to properly warm-up your muscles and perform some stretching exercises. This will help reduce the risk of injury and even enhance your overall performance. Here are some warm-up and stretching techniques you can use before running in basketball shoes:
Start with gentle dynamic stretching exercises such as leg swings, high knees, or butt kickers to loosen up your muscles and improve your range of motion.
Perform some static stretching exercises such as toe touches, lunges, and quad stretches to focus on specific muscle groups.
Incorporate some foam rolling exercises to release any tension in your muscles and prepare them for the workout.
Running Form And Technique Tips
Running form is crucial, especially when running in basketball shoes as they are not designed specifically for running. Here are some tips to improve your running form and technique while wearing basketball shoes:
Maintain an upright posture, keeping your shoulders relaxed and your torso stable.
Land on the ball of your foot, not your heel, to avoid putting extra pressure on your knee and ankle joints.
Take short, quick strides to improve your overall efficiency and reduce the risk of injury.
Keep your arms at a 90-degree angle and swing them back and forth in a smooth motion, not across your body.
Incorporating Interval Training For Explosive Movements
Interval training is a high-intensity workout that alternates between periods of intense exercise and rest. It is a great way to improve speed and explosiveness, which is essential when playing basketball. Here are some tips on how to incorporate interval training into your running routine:
Start with a five-minute warm-up of dynamic stretching exercises.
Alternate between short sprints and jogging for 30 seconds each.
Repeat the sprint-jog pattern for 20-25 minutes.
End with a five-minute cool-down of static stretching exercises.
Strength And Conditioning Exercises To Enhance Performance
Improving strength and conditioning is essential for basketball players. Incorporating strength and conditioning exercises into your running routine can help enhance your overall performance. Here are some strength and conditioning exercises that can help:
Squats to strengthen your leg muscles and improve your endurance.
Lunges to improve balance and stability while running in basketball shoes.
Calf raises to improve your calf muscles and reduce the risk of injury.
Resistance band exercises to improve your overall strength and conditioning.
Ultimately, running in basketball shoes can lead to better performance on the court if done correctly. Incorporating these tips into your running routine will help maximize your performance and reduce the risk of injury. By following these guidelines, you can improve your overall performance and hit the court with confidence.
Frequently Asked Questions On Running In Basketball Shoes
Can You Run In Basketball Shoes?
Yes, you can run in basketball shoes, but they are designed with a heavier sole than running shoes. The sole is heavy to provide increased support and prevent injuries when landing. However, they may not offer the same level of comfort and flexibility as running shoes.
How Long Do Basketball Shoes Last For Running?
As basketball shoes are designed for a different purpose, they may not last as long as a running shoe when used for running. The average lifespan of a basketball shoe is 6 to 12 months. It depends on the frequency of use and the running surface.
Are Basketball Shoes Good For Outdoor Running?
Basketball shoes are designed for indoor use, so they may not have the same durability on outdoor surfaces. They also have a heavier sole with less traction on gravel or trails. If you must wear basketball shoes for outdoor running, ensure the surface is smooth and not too rough.
Can Basketball Shoes Help With Running Injuries?
Basketball shoes provide good ankle support, heel protection and stability that can help with running injuries such as ankle sprains or plantar fasciitis. However, they may not offer the same level of comfort and cushioning as running shoes that are designed to protect your feet from the high impact of running.
Is It Safe To Run In Basketball Shoes?
It is safe to run in basketball shoes in short distances, but they may not be the best choice for long distance running. As basketball shoes are designed for a different purpose, they may increase the risk of injuries such as blisters or shin splints.
It is better to wear the appropriate shoes for running to prevent injury.
Conclusion
To sum it up, running in basketball shoes may seem like a tempting idea, but it's essential to understand the potential risks and benefits involved. These types of shoes offer excellent ankle support, cushioning, and durability that are necessary for basketball players.
However, it's not wise to use them for extended periods of running. Running shoes are designed for the particular activity, and they are the best choice to minimize injuries and maximize performance. Athletes should always consider their goals, physical abilities, and training demands before picking a shoe.
Choosing the right shoe can make a significant difference in one's overall foot and body health as well as performance. It's vital to prioritize safety above all else and listen to the body's cues. It's safe to say that a decent pair of running shoes is a worthwhile investment for anyone serious about running, regardless of the sport.