To dry shoes fast, stuff them with newspaper and place them in a dry, well-ventilated area. Wet shoes are a common inconvenience, but leaving them to air-dry can take hours or even days, which is why it is important to know the best methods to dry shoes quicky.
Whether you are trying to dry leather, sneakers, or any other type of shoes, there are several ingenious ways to get them dry in no time. This article will explore some of the best methods that you can use to dry shoes fast and get back to your day.
From using newspaper to applying heat and air to your shoes, there are many ways to safely dry your shoes without damaging them. So let's take a closer look.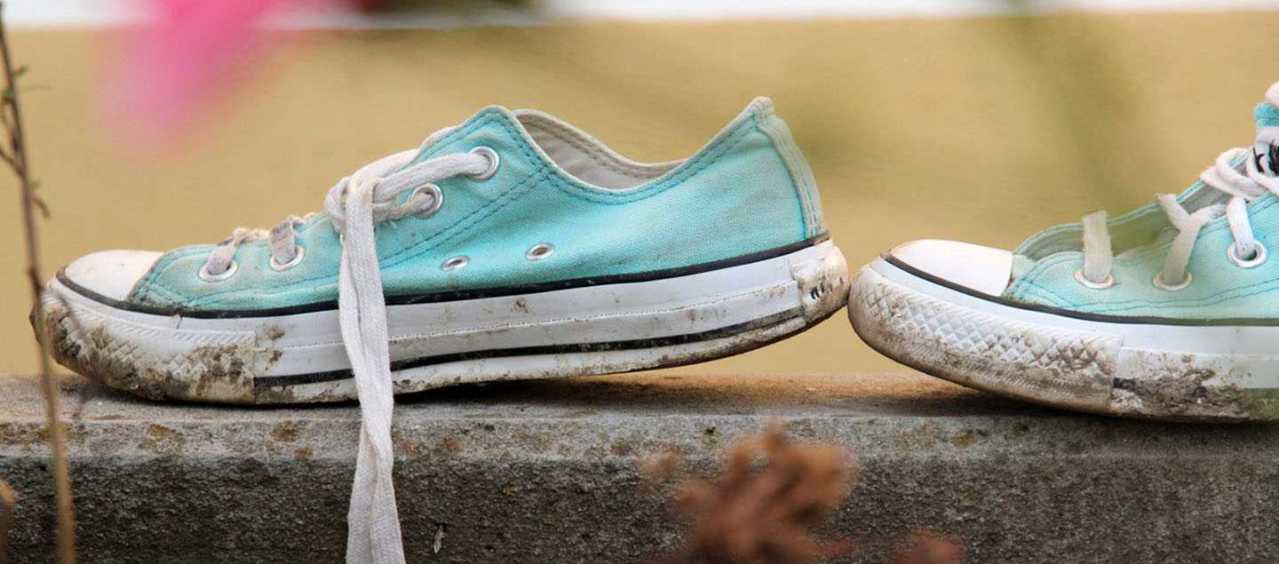 Credit: www.persil.com
Causes Of Wet Shoes
Nothing is more frustrating than soggy shoes on a rainy day. Not only do they feel uncomfortable, but they also take forever to dry. However, do not fret because in this blog post, we will provide you with some simple yet effective ways to dry your shoes fast.
In this section, we will cover the causes of wet shoes, and how to choose the right shoes to avoid wet feet in the first place.
Explaining How Shoes Get Wet
The first step to solving the problem of wet shoes is understanding how they get wet in the first place. Let's take a look at some common causes of wet shoes:
Wet weather conditions: The most obvious reason for wet shoes is that we encounter rain, mud, or wet surfaces while walking outside.
Sweat: If you spend long hours wearing your shoes, you will naturally sweat in them, which can lead to moistness.
Water sports: Participating in water sports or any activity that requires you to walk through water can lead to your shoes becoming wet.
Accidents: You may accidentally spill water, or any liquid on your shoes, leading to moisture.
Water-Resistant Versus Waterproof Shoes
Now that we know how shoes get wet, it's essential to know the difference between water-resistant and waterproof shoes. Here's a brief overview of both:
Water-resistant shoes: Water-resistant shoes are not entirely waterproof but can withstand water to some degree. These shoes are ideal for light rain, shallow puddles, or moist surfaces. However, they cannot protect your feet in heavy rain or water sports.
Waterproof shoes: Waterproof shoes are designed to keep your feet dry even in the heaviest downpour. They are entirely water-resistant and can protect your feet from rain, snow, or water-based activities.
Understanding how shoes get wet is essential to prevent them. Additionally, choosing the right shoes can also reduce the chances of having wet feet. Don't settle for soggy shoes; instead, try out some of the drying techniques we'll cover in the next sections.
Choosing The Right Drying Technique
When it comes to drying your shoes, there are various options available. However, choosing the right technique is crucial to prevent damaging your shoes. Here are some of the best techniques for drying shoes:
Why Not To Use Heat Sources Like A Hairdryer Or Radiator
Although heat sources like a hairdryer or radiator might seem like an easy way to dry your shoes fast, it's best to avoid them. Here's why:
Heat can damage your shoes: When you use heat sources to dry your shoes, you risk warping their shape, melting glue, and even weakening the fabric.
Increased risk of fire: Leaving your shoes near a heat source comes with a higher risk of fire, especially if your shoes are made of flammable material like synthetic fibers.
It's not effective: Although heat sources can dry the exterior of your shoes fast, the inside may remain damp.
Benefits Of Using Natural Drying Methods
Using natural drying methods to dry your shoes has many advantages over using heat sources. Here are some of the benefits:
No risk of damage: Natural drying methods like air drying and using newspapers are safe and gentle on your shoes, preventing any damage.
No risk of fire: Unlike heat sources, using natural drying methods is fireproof.
Effective: Although it might take longer, natural drying methods thoroughly dry the entire shoe, preventing unpleasant odors and mold growth.
When it comes to drying your shoes, it's best to choose natural methods over heat sources like a hairdryer or radiator. Not only will natural drying prevent damage to your shoes, but it's also safer and more effective.
Top Tips For Drying Your Shoes Quickly
Wet shoes can be annoying, especially when you need to wear them for an important event, or you simply want to pace up your routine. If you're tired of waiting for days for your shoes to dry, try these top tips for drying them quickly.
Tip 1: Using Newspaper Or Tissue Paper
One of the easiest ways to dry shoes quickly is by using newspaper or tissue paper. Follow these steps:
Stuff your wet shoes with crumpled newspaper or tissue paper.
Leave them for a few hours, or until the paper is fully soaked, then replace the paper with fresh ones.
Repeat until the shoes are dry.
Note that this method works best for shoes with removable insoles, as you can remove the insoles and dry them separately.
Tip 2: Absorbing Moisture With Baking Soda
Baking soda is a great moisture absorber. To dry shoes with baking soda:
Sprinkle baking soda into your shoes until they're fully covered.
Leave them for a few hours, or overnight.
Shake out the baking soda, and wipe off the excess with a dry cloth.
Tip 3: Stuffing Your Shoes With Rice
Another excellent moisture absorber is rice. To dry shoes with rice:
Fill several socks with rice (uncooked), and tie them securely.
Stuff the rice-filled socks into your wet shoes.
Leave them for a few hours, or overnight, then remove the socks.
Tip 4: Using A Fan
A fan works great for drying shoes, as it helps to evaporate the moisture quickly. Here's how to use a fan to dry your shoes:
Place your shoes in front of a gentle fan, or set up a portable fan to blow air directly into your shoes.
Leave them for a few hours, or until they're completely dry.
Tip 5: Trying Special Drying Products
There are various shoe-drying products available in the market that can help dry your shoes fast. Here are some of the best options:
Shoe dryer: Shoe dryers use heated air to dry shoes quickly.
Dehumidifier: A dehumidifier helps to remove moisture from the air, which in turn helps to dry shoes quickly.
Silica gel packets: Silica gel packets are moisture absorbers that can dry your shoes in a few hours.
Each of these options is effective and easy to use. Choose the product that suits you the best.
By utilizing any of these top tips, you'll be able to dry your shoes fast and resume your routine quickly. Try them out and see which one works best for you!
Additional Advice For Different Types Of Shoes
Different types of shoes require different methods of drying. Here are some additional tips for drying athletic shoes, leather shoes, and suede or nubuck shoes:
Athletic Shoes
If your athletic shoes are drenched with water, follow these steps to dry them fast:
First, remove the laces and insoles to speed up the drying process.
Stuff your shoes with paper towels to absorb the moisture.
Place the shoes in a dry and well-ventilated area. Avoid putting them near heat sources like radiators, as this could damage the shoes.
Let the shoes dry for several hours or overnight before wearing them again.
Leather Shoes
Leather shoes need special care when drying to avoid damage. Here's how to dry them fast:
Wipe the shoes with a dry cloth to remove any excess water.
Stuff the shoes with newspaper to help them keep their shape and absorb moisture.
Allow your shoes to dry naturally in a well-ventilated area away from direct sunlight or heat.
After the shoes are completely dry, apply a leather conditioner to soften the leather and prevent cracks.
Suede Or Nubuck Shoes
If your suede or nubuck shoes are wet, avoid using heat to dry them or you might damage the material. Instead, follow these steps:
Blot as much of the water as you can with a dry cloth.
Sprinkle cornmeal, talcum powder, or baking soda over the wet areas to absorb moisture. Leave the powder overnight.
Gently brush the powder off the next day with a suede brush or soft cloth.
Remember, prevention is always better than cure. Avoid exposing your shoes to water if possible. But if they do get wet, follow these additional tips to dry them fast.
Frequently Asked Questions Of How To Dry Shoes Fast
How Long Does It Take For Shoes To Dry Naturally?
It can take up to 24 hours for shoes to dry naturally, depending on the humidity, temperature, and airflow. Place them in a well-ventilated area, away from direct sunlight and high heat sources. Stuffing them with newspaper or cloth can help absorb moisture and speed up the process.
Can I Put Shoes In The Dryer To Dry Them?
It's not recommended to put shoes in the dryer as the high heat can warp the shape, damage the material, and potentially melt the glue. Instead, use a low heat setting and put them in a laundry bag or pillowcase to protect both the shoes and the dryer.
How Can I Dry Shoes Quickly Without A Dryer?
If you don't have a dryer, you can try using a fan, a hairdryer on a low/cool setting, or a dehumidifier to speed up the drying process. Placing them near a warm air vent or wrapping them in a towel and pressing down to remove excess moisture can also help.
Can I Use A Heater To Dry My Shoes?
Avoid using a heater to dry your shoes as the direct heat can damage the material and cause them to deform. Instead, put them near the heater, but not too close, to allow for indirect heat to help dry them.
How Do I Prevent My Shoes From Smelling Bad When Drying?
To prevent odor, sprinkle baking soda or talcum powder inside the shoes and let it sit overnight. Then, shake off any excess powder before wearing them. Also, consider adding a shoe deodorizer or keeping cedar shoe trees inside them to absorb moisture and reduce odor.
Conclusion
After reading this article, you have learned some of the best ways to dry your shoes fast. Whether you choose to use a basic drying technique like stuffing them with newspaper or employing modern technology like a hairdryer or dryer balls, these tips are sure to help you get your shoes dry and ready to wear in no time.
Remember to always remove any excess moisture before attempting to dry your shoes, and to avoid using direct heat sources unless absolutely necessary. By following these guidelines, you can prolong the lifespan of your shoes and keep them looking and smelling fresh.
With the right approach, you can say goodbye to damp and uncomfortable shoes forever!