Yes, uggs do tend to run big. In order to ensure the best fit, it's recommended to size down one whole size when purchasing uggs.
Ugg boots have become an iconic fashion statement, known for their soft sherpa lining and comfortable fit. However, many people find themselves wondering how to properly size these boots. In general, uggs do run big, meaning that you should size down one whole size when making a purchase.
This will ensure that your boots fit comfortably and snugly, without being too loose or sliding off. Uggs come in a variety of styles, from classic tall boots to shorter ankle boots, so it's important to choose the appropriate size for your particular style. By carefully selecting the right size, you can ensure that your uggs are not only stylish but also comfortable and functional.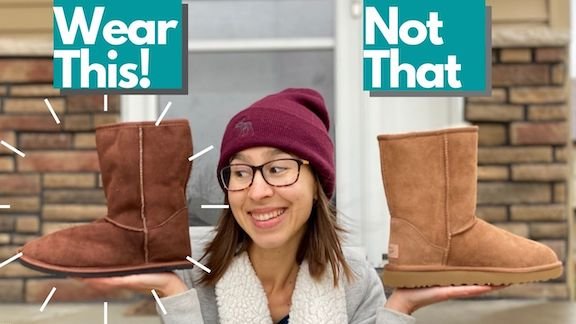 Credit: anyasreviews.com
Understanding Ugg Sizing
Ugg boots are no strangers to the fashion world, with their undeniable style and undeniable comfort. When you're choosing a pair of ugg boots or shoes, it's essential to understand the sizing to ensure the perfect fit.
Explanation Of Ugg Sizing Chart
Ugg sizing chart may look different than other footwear brands you may be familiar with. Ugg uses numerical sizing, but the numbers can differ between men's, women's, and kids' shoes. For instance, a men's size 8 is different than a women's size 8.
How To Measure Your Foot To Determine Your Ugg Size
Measuring your foot can help you determine your ugg size accurately.
Place a piece of paper on the floor with one end against the wall.
Stand on the paper with your heel against the wall.
Mark the tip of your longest toe with a pencil on the paper.
Measure the distance between the wall and the pencil mark.
Repeat the process for your other foot, as most feet are slightly different in size.
Use the measurement and find your ugg size on the sizing chart.
What To Do If You Are Between Sizes
It's best to have a proper fit with ugg boots because they might stretch as they're worn.
If you're unsure about the size, opt for the larger size.
When it comes to half sizes, round down if your feet are narrow and choose a half size up if your feet are wider.
Ugg insoles can make a big difference when it comes to sizing. Try adding an insole to a slightly larger boot to prevent slippage and ensure a snug fit.
Sizing can be daunting, but with these tips, you'll be able to find the perfect size ugg boots or shoes. Remember to measure both feet, know your size, and consider half sizes and ugg insoles. With the right size, you can enjoy the ultimate comfort and style that ugg boots provide.
Factors That Affect Ugg Sizing
Ugg boots are a popular choice for their comfort, warmth, and style. However, one common question among buyers is whether uggs run big or small. The answer is not straightforward, as several factors can influence ugg sizing. In this section, we'll explore the main factors that impact ugg sizes and guide you on how to choose the perfect fit for your feet.
Material Of Uggs
Ugg boots are made of different materials, such as suede, sheepskin, and leather. Each of these materials can affect the sizing of uggs differently.
Suede uggs tend to stretch out over time, so you may need to go half a size down.
Sheepskin uggs are snugger, as the wool inside the boot compresses and molds to your feet with time. Consider going for your standard shoe size.
Leather uggs don't stretch much, so you may want to go for a half size up for roomy comfort.
Style Of Uggs
Ugg boots come in various styles, including classic ugg boots, ankle boots, slippers, and more. Each style can have a different fit and sizing recommendations.
Classic ugg boots tend to fit snugly and come in whole sizes only. Consider going for a size up if you're between sizes.
Ankle ugg boots can have a roomier fit and come in half sizes. They're also ideal for those with wider feet.
Uggs slippers differ in sizing based on the design and material used. It's best to check the specific sizing guide for each type of slipper.
Production Location Of Uggs
The production location of uggs can also determine its sizing. Uggs made in different countries have varying sizing standards. For example, uggs made in the usa tend to run true to size, while ukranian-made uggs may run smaller than the standard us sizing.
When buying uggs, consider the material, style, and production location to determine sizing. Always measure your feet and check sizing charts before making a purchase. Remember that different styles, materials, and production locations could require different sizing considerations.
Choose the perfect fit for your feet to enjoy the ultimate comfort and style of uggs!
Common Complaints
Do you own a pair of uggs? Then you know how comfy they can be. However, finding the right size could be a hassle. We'll cover the common complaints people have with uggs concerning their sizing. We'll explain why some customers complain that uggs run too small or too big and provide possible reasons for these complaints.
Customer Complaints About Uggs Running Too Small
Several customers complain that uggs run too small.
Uggs have a cozy lining that can flatten without the right sizing, leading to a snug fit.
Uggs are made of sheepskin, which can stretch and loosen over time. Nevertheless, beginners often wear their uggs snugly, which may cause them to feel too restricted later on.
It is crucial to note that the ugg classic boot, for example, is supposed to fit tightly at first and then loosen up after some wear.
Customer Complaints About Uggs Running Too Big
On the other hand, some clients encounter the opposite problem, complaining that their uggs are too big.
While purchasing, some people make the mistake of sizing up to ensure a comfortable fit, but this can lead to the shoes feeling too loose and difficult to walk in.
Uggs can't be worn with socks if they're too big, particularly wool socks, which are common during winter, which can cause the foot to slide around inside the boot.
In some cases, uggs that are too big can lead to foot and ankle pains.
Possible Reasons For Customer Complaints
While we've addressed some of the factors behind customer complaints regarding uggs running too big or too small, here are a few more possible explanations that could lead to such complaints:
Sizing errors: Based on the model and material used, uggs may have distinct size specifications. As a result, if clients aren't cautious, they may purchase the wrong size, resulting in discomfort.
Foot changes: Weight gain or lack of exercise can cause the foot to expand, necessitating the purchase of a new size.
Foot size: Some people's feet are bigger, necessitating going up a size in certain models. It's essential to try on uggs and ensure there is enough space for the toes to move.
Uggs are a popular, cozy option for cold weather. However, finding the proper size could be a struggle. Customers find their uggs either too small or too big and complain about them. The size problem could be because of various issues, from sizing errors to foot changes.
As a result, it's critical to get the right pair and keep these factors in mind while buying your next one.
Tips For Purchasing Uggs
How To Shop For Uggs
If you're in the market for a new pair of uggs, there are several things to consider before making a purchase.
Know your style: Uggs come in various styles like classic, mini, tall, and more. Determine which style fits you best before buying.
Consider the occasion: Are you buying uggs for everyday wear or a special event? This is important to consider since some styles are better suited for the outdoors, while others are ideal for indoor settings.
Check the sizing: Uggs often run larger than your average shoe size. It's recommended to go down one full size or a half size, depending on your foot width.
Consider your budget: Uggs can be a bit pricey, so be sure to determine your budget before heading to the store or shopping online.
Where To Buy Uggs
The following places are recommended when it comes to purchasing uggs:
Official ugg website: This is the most reliable source for uggs as they offer the widest selection and often have exclusive ugg shoe styles.
Department stores: Some department stores carry ugg boots, but may carry a limited selection.
Online retailers: Websites like zappos or amazon offer a vast selection of uggs, but be sure to buy from a trustworthy source with good customer reviews.
Factors To Consider When Buying Uggs
Before making a final decision on which uggs to purchase, consider the following factors:
Type of material: Uggs come in different materials like suede, leather, sheepskin, and synthetic materials. Choose a material that fits your lifestyle and preferences.
Color options: Uggs are available in a wide range of colors, so choose one that will complement your wardrobe and personal style.
Care instructions: Different materials need different care instructions, so make sure you know exactly how to properly clean and maintain your uggs for long-lasting wear.
Purpose of wear: Consider whether you plan to wear your uggs for everyday use or special occasions. This will help you determine which style and color to choose.
How To Ensure A Proper Fit
To ensure your uggs fit correctly, follow these simple steps:
Take accurate measurements of your feet: Uggs tend to run larger, so it's important to measure your foot size accurately to find a comfortable fit.
Try them on: The best way to find the perfect fit is by trying on a pair of uggs in-store. Walk around in them to make sure they're comfortable and provide proper support.
Check for snugness: Uggs should fit snugly on your feet while still allowing room for your toes to wiggle. Avoid buying uggs that are too tight or too loose.
By following these tips, you can purchase the perfect pair of uggs that are both stylish and comfortable for any occasion.
Frequently Asked Questions On Do Uggs Run Big
Do Uggs Run Big Or Small?
Uggs usually run a size larger than your usual shoe size. So, if you're a size 8, go for a size 7. However, if you are between two sizes, go for a half size down for a snuggly, comfortable fit.
How To Tell If Uggs Are Too Big?
If your heel slips out of the uggs when you walk or if there is a gap at the back of the boots, it means your uggs are too big. Try going for a lower size to avoid the slipping problem.
How To Stretch Out Uggs That Are Too Small?
If your uggs feel too snug, fill the inside of the uggs with a damp cloth or paper towels and let them dry. However, if they still feel too tight, you can always take them to a cobbler or spray some stretching solution.
Can You Wear Uggs With Thin Socks?
Uggs are designed to be worn without socks, but if you can't do without them, go for a thin pair. However, wearing too-thin socks with uggs would make your feet colder and could cause blisters or discomfort.
How To Clean Uggs?
To clean uggs, use a suede brush to remove any dirt or debris. You can also use a mixture of equal parts water and vinegar to remove any tough stains. Afterwards, stuff the boots with towels to retain their shape and let them dry naturally away from direct sunlight.
Conclusion
Based on our extensive research, it's safe to say that uggs do run big. However, it's important to remember that everyone's feet are different and what may feel true to one person, might not be the same for another. It's always best to measure your feet before purchasing a pair of uggs to ensure the perfect fit.
Additionally, it's important to note that uggs tend to stretch over time, which is something to keep in mind when choosing a size. If in doubt, it may be worth visiting a store to try on different sizes or consulting with customer service for guidance.
Overall, investing in a pair of uggs is a great decision and with the right size, they will provide warmth, comfort, and style for years to come.