Yes, brooks tend to run small, so it's recommended to size up by half a size. Brooks is a well-known brand for running shoes, and if you're in the market for a new pair, you may be wondering whether brooks shoes run true to size.
The short answer is no. Brooks is known for making shoes that tend to run small, so it's generally recommended to size up by half a size. However, it's essential to keep in mind that sizing can vary depending on the model of the shoe, so it's always best to try on the shoe before making a purchase.
In this article, we'll take a closer look at how to properly size brooks shoes and offer some tips on finding the perfect fit.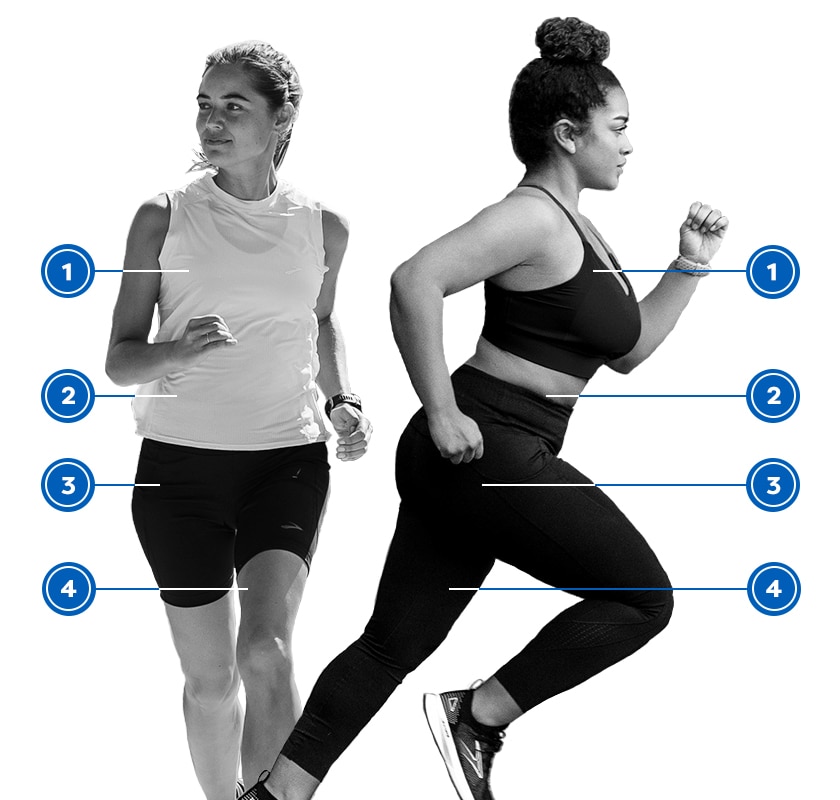 Credit: www.brooksrunning.com
Brooks Running Shoes Sizing: A Comprehensive Guide
Brooks is a popular running shoe brand that caters to both professionals and amateurs. One of the most commonly asked questions about brooks shoes is whether they run small. In this blog post, we'll dive into the brooks size chart, key considerations when buying brooks shoes online, and how to measure your feet for brooks running shoes.
Understanding The Brooks Size Chart
Before purchasing brooks running shoes, it's essential to understand their size chart to get the perfect fit. Here are some key points to keep in mind:
Brooks uses standard us shoe sizes.
Their shoes come in different widths – narrow, medium, wide, and extra-wide – so make sure to select the appropriate width.
Some brooks shoes have a different size chart for men and women, so double-check before purchasing.
Brooks recommends leaving at least a thumb's width of space between your longest toe and the shoe's end.
Key Considerations When Buying Brooks Shoes Online
Buying brooks shoes online can be convenient, but it can also be challenging to choose the right size and fit. Here are some tips that can help:
Always refer to the brooks size chart before making any purchase.
If you're not sure about the size, order two pairs and keep the one that fits the best.
Read other customers' reviews to get an idea about sizing and fit.
Choose a store with a good return policy in case you need to exchange or return your shoes.
How To Measure Your Feet For Brooks Running Shoes
Measuring your feet is crucial for getting the correct size and fit for brooks running shoes. Here are the steps to follow:
Place a sheet of paper on the ground, against a wall or another flat surface.
Stand barefoot on the paper, with your heel against the wall.
Mark the end of your longest toe with a pencil.
Measure the distance between the wall and the mark on the paper in inches or centimeters.
Use the brooks size chart to determine your shoe size based on the measurement results and width.
Understanding the brooks size chart, considering key factors when buying online, and measuring your feet can help you get the perfect fit for your brooks running shoes. Happy running!
Do Brooks Running Shoes Run Small?
Mythbuster: Brooks Running Shoes Are Perfectly Sized For Everyone
Brooks is a popular brand of running shoes that is known for comfort, quality, and great design. But one question that often pops up in people's minds is whether brooks running shoes run small. There is a myth that brooks shoes do not run true to size, and this is a myth that needs to be busted once and for all.
The reality is that brooks shoes are perfectly sized for everyone, and here is why:
Brooks offers multiple size options, including half sizes, so that everyone can find their perfect fit.
The company has a wide range of shoes suitable for different activities and foot types. This means it's essential to choose the right model and size when purchasing brooks shoes.
Proper sizing is ensured by paying attention to the foot width, toe box, and heel support. Brooks shoes provide more room in the toe box and heel areas, ensuring maximum comfort and less friction that can cause blisters.
How To Determine The Correct Size For Your Feet
It's essential to determine the correct shoe size before purchasing brooks running shoes, here are some key steps to follow:
Measure your feet: Use a brannock device or another measuring tool to determine the length and width of your feet and compare it with brooks sizing charts.
Consider your foot type: Different people have different foot types, including flat or high arches. Brooks running shoes offer models suited for various foot types, so ensure that you choose the right model.
Wear the right socks: It is best to wear the same thickness socks that you'll wear while running when trying on your running shoes.
Try them on: Once you've selected the right size and model of brooks shoes, try them on and walk around to test the fit, ensuring that your heel does not slip, and your toes have enough room to wiggle.
Tips For Dealing With Common Sizing Problems
Even when you follow the steps above, several factors can cause brooks running shoes to feel too tight or too loose. Here are some tips to help with sizing problems:
Breaking in shoes: Brooks shoes can take some time to break in, especially if you've opted for a model with a snugger or tougher fit. Wear them for short periods initially, and gradually increase the time and distance until they feel more comfortable.
Adjust laces: Brooks running shoes have a lacing system that can offer custom support for your feet. Adjust them to improve the fit, especially around the ankle.
Add insoles, heel pads or toe pads: If you have unique foot problems or sizing problems, try adding insoles or pads to address them. It'll improve the fit and reduce discomfort.
Remember to replace shoes: Running shoes lose effectiveness over time, and it's best to replace them after running 200-300 miles.
Brooks running shoes are perfectly sized for everyone. Pay attention to the sizing guide and measure your feet correctly to purchase the right pair. If sizing problems arise, try the tips above to improve the fit and ensure maximum comfort and support while running.
Factors To Consider When Choosing Your Brooks Running Shoes
Choosing the right pair of running shoes is essential to prevent injury and improve performance. Here are some factors to consider when selecting your brooks running shoes:
Shoe size: Make sure to get the right fit for your feet. Brooks shoes are known to run true to size, but it's always a good idea to try them on before buying.
Foot type: Determine your foot type and consider shoes that match your arch height. Brooks provides a shoe guide to help you find the right pair for your feet.
Running terrain: Consider the surface where you'll be doing most of your running. Brooks provides specific shoes for road running, trail running, and track running.
Pronation: Pronation is how your foot rolls when it hits the ground. Knowing your pronation type can help you choose the right pair of shoes. Brooks offers neutral, stability, and motion control shoes.
The Importance Of Arch Support In Your Brooks Running Shoes
Arch support is one of the most important aspects of a running shoe. Proper arch support is crucial in preventing common running injuries and ensuring comfort while running. Here are some key benefits of arch support:
Provides cushioning: Arch support helps distribute your weight more evenly throughout your foot and provides extra cushioning while running.
Reduces overpronation: Overpronation can lead to injury, and arch support helps stabilize the foot and prevent overpronation.
Improves alignment: Proper arch support helps maintain the alignment of your foot, ankle, and knee, reducing the risk of injury.
How to choose the right brooks running shoes for different activities
Different running activities require different shoes. Here are some tips to help you choose the right brooks running shoes for different activities:
Road running: Road running shoes are designed for flat surfaces and provide cushioning and support. Look for shoes with responsive cushioning and a comfortable fit.
Trail running: Trail running shoes are designed for rough terrain and provide traction and stability. Look for shoes with a durable sole and waterproof upper.
Track running: Track running shoes are lightweight and provide traction for speed. Look for shoes with a secure fit and minimal cushioning.
Remember, the right pair of brooks running shoes can make all the difference in your running performance and injury prevention.
Ensuring Maximum Comfort And Performance In Your Brooks Running Shoes
If you are a runner, you know how important it is to have good running shoes. Brooks is one of the most popular brands in the running community, but the question remains: do brooks run small? Here, we'll discuss how to ensure maximum comfort and performance in your brooks running shoes, along with a few other important considerations.
Breaking In And Customizing Your Brooks Running Shoes
Breaking in your brooks running shoes is essential, but it's equally important to customize them for a personalized fit. Here's what you need to know:
Start by breaking your shoes in slowly. Don't put them to the test on your first run or wear them for an extended period.
Gradually wear them for longer periods each day, starting at 15-20 minutes and increasing the duration over several weeks.
Once they're fully broken in, use duct tape to reinforce potential hot spots or blisters.
Replace stock insoles with customized insoles to provide better arch support or cushioning.
Special Considerations For Long Distance Running And Races
Long distance running and races require specific considerations that differ from shorter runs. Here are a few things to keep in mind:
Get fitted for shoes with more cushioning to reduce impact on joints.
Choose shoes with breathable fabric to keep your feet cool and sweat-free.
Consider investing in two pairs to switch off during training to prevent injury.
Don't try anything new before race day – stick with what you know works for you.
How To Make Your Brooks Running Shoes Last Longer
Purchasing running shoes can be a significant investment, so you'll want to make sure they last as long as possible. Here's how:
Avoid using them for activities other than running to prevent wear and tear.
Clean them regularly using mild soap and water to remove dirt and debris.
Dry them naturally, away from direct sunlight or heat sources.
Rotate them regularly to prevent compression of cushioning materials.
Following these guidelines will ensure you get the most out of your brooks running shoes and stay comfortable and injury-free during your runs.
Frequently Asked Questions For Do Brooks Run Small
Do Brooks Shoes Run Small Compared To Other Brands?
Brooks running shoes tend to fit snugly but are typically true to size. However, each brand has its unique fit, so it's best to consult the brand's size chart before purchasing. Brooks has a shoe finder tool to help determine the right size and fit based on foot shape.
Should I Order A Size Up Or Down For Brooks Shoes?
It's generally not recommended to size up or down for brooks shoes. Since everyone's feet are different, it's best to follow the size chart and try on different sizes to see which one fits best. If you're unsure, consider visiting a shoe store to get professionally sized and fitted.
How Do I Know If My Brooks Shoes Fit Properly?
The most accurate way to know if your brooks shoes fit properly is to have your feet measured by a professional. Make sure there is a thumb's width of space between the longest toe and the end of the shoe, and the heel should be snug but not too tight.
When you walk or run, your heel should not slip out of the shoe.
Do Different Models Of Brooks Shoes Fit Differently?
Yes, different models of brooks shoes can fit differently due to their unique design and purpose. For example, trail running shoes may fit more snugly to provide a better grip on uneven terrain, while road running shoes may have a more comfortable fit.
Always refer to each shoe's size chart and try on multiple sizes if possible.
Can I Return Brooks Shoes If They Don'T Fit Properly?
Yes, brooks offers a 90-day return policy for unworn shoes purchased on their website. If you receive your shoes and they don't fit properly, you can return them for a refund or exchange. Note that brooks does not cover the cost of return shipping.
Conclusion
Based on the research conducted, it is evident that brooks running shoes tend to run small. However, it is highly recommended to measure your foot size and consult the size chart provided by the manufacturer before purchasing any brooks shoe.
This will ensure that you get the perfect fit and avoid any discomfort or injuries caused by wearing the wrong shoe size. If you already own a pair of brooks shoes that feel a bit small, you can try stretching them with different techniques such as wearing thick socks or using a shoe stretcher.
It is also important to note that the sizing may vary, depending on the specific model or style of the shoe. Always prioritize comfort and fit when purchasing any brooks running shoe and do not hesitate to reach out to their customer service team for guidance.
Remember that a comfortable shoe will enhance your running performance and help you reach your goals!